Tracking Billable Time has never been easier!
---
DOWNLOAD AND INSTALL THE APP ON YOUR COMPUTER AND START

TRACKING TIME WITH SCREENSHOTS!
MONITOR YOUR TEAM
AND IMPROVE THEIR PROGRESS!

TRANSPARENT REPORTING
YOUR CLIENTS WILL LOVE IT!

AUTOMATE TIME TRACKING
FOCUS ON YOUR WORK INSTEAD!
Comes with multi-OS


desktop time tracking app!
---
The WP HOURLY TRACKER add-on for WP HOURLY comes with a desktop time tracking app that allows your employees to login and track time with screenshots! This way you can charge your clients for the time worked, but you can also monitor your employees progress.
If you want to, or if you are required by your customers, you can slo present them with screenshot reports of the time worked. This feature increases your credibility in front of your clients by a lot
If you are a solo freelancer, not only you can use our plugin to bill your clients for your time BUT you can also monitor your progress and improve your work time and performances as well!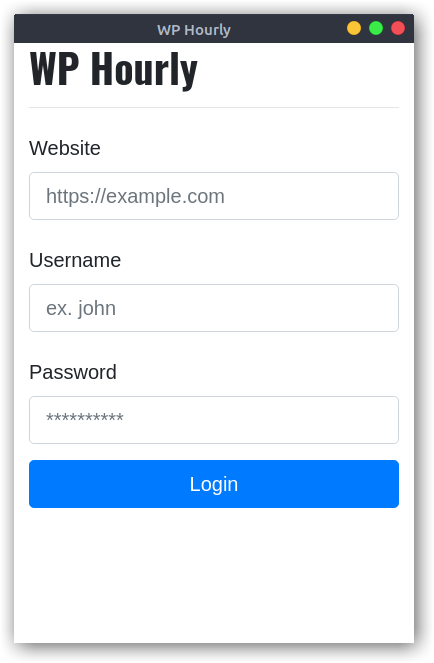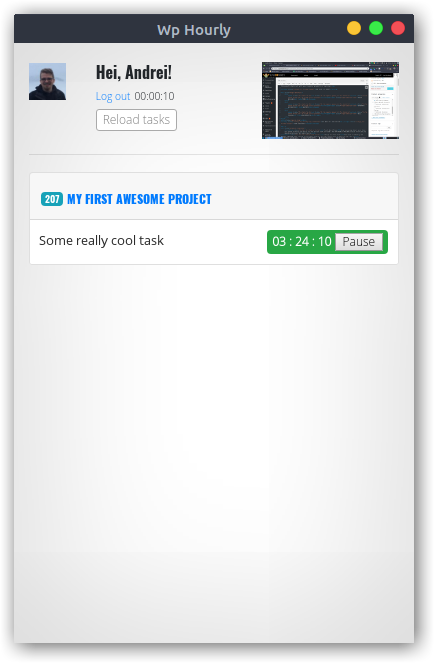 SEE WHAT IT CAN DO FOR
YOUR BUSINESS!
---
Track Work Time

Stop worrying about the time you spend working and focus on the actual work at hand! Let WP HOURLY TRACKER handle time for you!

Charge For The Time

The time tracked by WP HOURLY TRACKER gets stored as billable time so you can allow your clients to pay for it

Save Money

WP HOURLY TRACKER allong with WP HOURLY (which is free and open source) is a much more budget-friendly solution for your time tracking needs. Compaired to other services, our cost is just a fraction!

Automate Tracking

Stop wasting time entering hours manually! Use WP HOURLY TRACKER to automate the process of time logging and focus on the actual work

Monitor Employees

Make sure your team is performing well and maximize productivity. you can see screenshots of your employees desktop while they are working for you.

Proof Of Work

Provide proof of work to your customers so they can rest assured that the time they pay is time spent working, using the screenshot functionality

Client Dashboard

Allow your clients to check the list of Projects, Tasks and Time Records tracked

Extensive Reports

Generate extensive reports for you, your team and for your clients
We will now explain each functionality aspect of this lovely time tracking app with screenshots and why it is the best solution for your hourly work business in more detail.
---
Getting started
Firstly, you will need the WP HOURLY WordPress Plugin. We suppose that since you are on this page, you already have it. If not, just download it from here. Once you have that installed, you have the backbone. This add-on (WP HOURLY TRACKER) is built to extend the core of the WP HOURLY Plugin.
The plugin creates an EMPLOYEE role in your website and only users with that role will be able to use the desktop app.
Your Employees will be presented with a login screen, where they will have to enter your website URL (the one this plugin is installed on – with no trailing slash), their username and password. These credentials are exactly the same as the ones they are using to login to your WordPress website.
If you are a Freelancer and do not have employees, rather than creating a new user for yourself, we recommend assigning the Employee role to your Admin user by code or use this nice little plugin that helps you attribute multiple roles to a user.
Please note that both WP HOURLY and WP HOURLY TRACKER (this plugin) need to be activated under the same WordPress installation in order to work.
What are the plugin minimum requirements?
The minimum requirements are PHP v7+ , latest MySQL and of course, the WP HOURLY WordPress Plugin . Any kind of server should run the plugin just fine but we recommend you to have a look over our WordPress Hosting Solutions. We have some really nice servers, in well reputed datacenters.
Installation and configuration
Once you purchase the WP HOURLY TRACKER Add-on, you will receive the downloadable files and license key the My Account area. You will need to download the ZIP file containing the add-on and install it just like any other WordPress plugin. BUT you will need to have the WP HOURLY plugin previously installed and activated in order for it to work. That means you either upload the ZIP file in your WordPress Add New Plugin page or unzip it and upload it to the www.yoursite.com/wp-content/plugins folder.
Now if that is out of the way, you can activate the plugin. You will see a new tab in your WP HOURLY wordpress dashboard page tab that asks you to activate your license. You will have to enter the license code you receive after your purchase.

Desktop Time Tracking App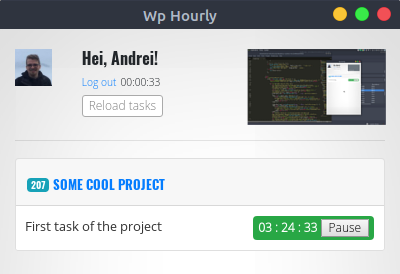 You will also receive download links to the desktop app (Mac, Windows and Linux). This is the magic maker. This app that we built communicates with your server and pulls out your Projects & Tasks. The Tasks that are assigned to that logged in user, of course.
The desktop app comes packed as a regular application installer. Be it on Mac, Windows or Linux, all you need to do is to double click on the executable file and follow the installation steps as requested by your operating system.
All done! Now the user will be presented with his or hers assigned Tasks, grouped by Projects. They can now select a Task to track time on.
All the Time Records and their corresponding Screenshots will be visible in the WP HOURLY client dashboard. You just have to use the [wph-client-projects] shortcode on any page you wish to display it or, if you are using WooCommerce, you can opt for displaying the projects lists with tasks and screenshots using the provided endpoint. Your client will then be able to browse the Projects that are attributed to him, as well as the Tasks and Screenshots associated to each Task. You can just as well not show this info to your clients, if you wish to keep the screenshots private.
THAT'S IT!

YOU ARE NOW READY TO CHARGE FOR YOUR BILLABLE TIME AND PROVIDE SCREENSHOTS AS PROOF OF WORK TOO!
---
DOWNLOAD NOW
…AT JUST 49 USD!
DOWNLOAD
A few F.A.Q.
---
Where can I find my license key?
The license key will be visible on the My Account section. You can access that with the logins setup during account creation on our website or checkout
How do updates take place?
Updates are performed directly from your website's dashboard, as long as you have a valid license key activated
Will the add-on and desktop apps work without a valid license key?
No. In order for you to be able to use our software, you must have an active and valid license key
I have a question, a feature request or can't manage to set it up
Please Contact Us or visit our Support Area. We are more than happy to help!