1
2
3
Working remotely has never been
easier!
WP Hourly is the ideal time tracking and billing solution for Freelancers and Agencies!
Download
PRO Add-ons
Documentation
Track. Charge. Monitor. Report
It does it all. From tracking time, to billing your customers or generating reports and time sheets. It also allows you to monitor your team or provide work screenshots to your customers!
Download
PRO Add-ons
Documentation
Time tracking with screenshots, time sheet reports and many more!
Run a Freelancing business or an Agency straight from your website
Focus on what you do best and let WP Hourly handle everything else
Enjoy the power of a project management app, time tracking app, monitoring app, reporting app and last, but not least, a billing solution design to flow nicely with your daily work needs. All within your own website!
Download
Track time like a boss
Stop wasting time filling up time sheets and work reports by hand!
The WP Hourly Tracker PRO Add-on is an electron based modern desktop app. It works on all operating systems. Once installed, you log into it with the same credentials you would log on your website and start tracking time. Simple as that!
Download
Charge for your billable time!
The main goal of WP Hourly, after all: allowing you to charge your customers for your time!
The WP Hourly WooCommerce Add-on allows your customers to checkout on your website and pay for your tracked time as if they were buying a new pair of shoes. It's that simple!
You can set a global hourly rate, or adapt the rate for each Client, project or Task.
Download
Manage Projects and Tasks smoothly
WP Hourly comes with a built-in Project Management system that is light and easy to use.
Add Projects and assign them to a customer. Add Tasks and assign them to your team mates. Re-assign tasks to different team mates.
You can track time for each task or add it manually and see how much time you invest on any given Project.
Download
Generate comprehensive time reports
WP Hourly and The WP Hourly TimeSheet Add-on take out the stress from generating time reports.
See how much time you or your team spent on literally anything. Show your clients how much a task or an entire project took you to build and improve your hourly rates accordingly!
Download
Media management at it's finest
Eliminate any doubt in your customers mind, and you will have a happy client that will stick with you for a long long time!
Not any more! The WP Hourly Tracker PRO add-on can also take desktop screenshots of you or your team mates working. These are super appreciated by your clients, thus showing them you provide valuable work for their money, and not just wasting their time. 
Download
How does the desktop app work?
WP Hourly works best with the WP Hourly Tracker Add-on.
While you can add time manually in WP Hourly as well, the entire goal is to spare you the trouble of having to do all these manual operations. 
The WP Hourly Tracker Add-on comes with a simple yet powerful desktop app which collects that time and uploads it to your server. That way, you can focus on your work, knowing your time will be counted and paid for.
Multi-OS
It works on any operating system: Windows, Linux and MacOS
Powerful caching
If your connection goes down, you an still work. The built-in caching system will upload time back to your server.
See your tasks
See your entire task list, grouped by projects.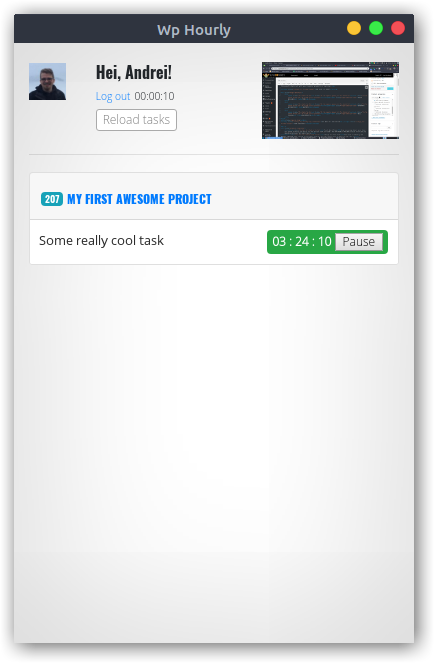 Track your time
Check both your total time for the day as well as time spent per task.
Desktop screenshots
It can be set to take screenshots of the desktop while updating the worked time on the server.
Privacy first!
While taking a screenshot, the app is blurred so that it will not disclose any sensitive data in between your clients.
Evem more super cool features!
We spent 3 years developing WP Hourly into a simple yet powerful solution aimed at helping both Freelancers and Agencies to develop their online business.
Blazing fast
We re-coded WP Hourly in order to provide the best possible user experience.
Client dashboard
Allow your customers to login and see what billable hours they have to pay you for.
Global perspective
View everything you need to see in a project in one window. Super easy to work with.
Intuitive design
Everything in the dashboard looks as expected from a project management system.
Email reports
Send automated work reports to your customers by email and stop wasting time on updates and calls.
Powerful settings
You decide what your team can or can not do within the dashboard.
Frequently asked questions
What type of businesses can use WP Hourly?
WP Hourly was initially intended for businesses that charge by the hours, like Freelancers and Agencies. However, lot's of customers reached out asking how they can use it for businesses from completely different industries. For example, WP Hourly is used by lawyers, charging by the hour, by companies with multiple employees working from home and need to be monitored and clocked. As a matter of fact, WP Hourly is ideal for any business that needs to have employee timesheets if nothing more.
What do I need in order to use WP Hourly and it's add-ons?
You would need to have a WordPress website. WP Hourly is a WordPress plugin. If you do not have one, we can help you build it. We are also planning to launch a SaaS version of WP Hourly so that clients that do not have a WordPress website can use it online. There is currently no available ETA for this however.
Can I use the PRO add-ons without WP Hourly?
No, of course; you would have to install WP Hourly first and then purchase any of the PRO add-ons you need.
Am I forced to buy all of the PRO-addons in order to use WP Hourly?
Not at all. The PRO add-ons are there to help you save and manage your time better. They help eliminating most of the manual tasks, like adding time manually, or generating employee timesheets, etc. By it self, WP Hourly is a very good solution for keeping track of the worked time, generate reports or use that time to invoice your customers.
Can I use different hourly rates for different clients?
Yes. WP Hourly allows you to set one global hourly rate. then, you can overwrite that rate for each Client, project or Task.
I am a Freelancer / Agency, how does it work for me?
WP Hourly can be used by single-person businesses as well as bigger companies with employees. As a freelancer, you would be the one doing everything, including tracking the time if you are using the WP Hourly Tracker add-on, where as an Agency, your employees or contractors would be doing that. That means WP Hourly and it's add-ons can be used by WordPress Administrators and Employees (a new user role created by WP Hourly)
How can I charge my clients for hourly work?
In order to do so you need WP Hourly and the WP Hourly WooCommerce Integration add-on. This will hook into the client My Account area and clients will be able to see the unpaid time they owe you. Paying is a s simple as checking out for a new pair of shoes like you would do on any online shop. You are basically selling hours 🙂
Is there a confirmation for clients after they pay for hourly work?
Yes. On the WooCommerce order, your client will see a timesheet of projects and tasks along with the time spent on each of them. That time sums up as the total amount paid on that order. Ex. Total of 100h worked * 50 USD / h = 5000 USD order total.
Can clients pay partial amounts?
In WP Hourly, billable time (tracked time) is grouped by weeks, in most countries, the week being a unit of measure for payment intervals. Using the WP Hourly WooCommerce Integration add-on allows your clients pay for particular weeks or the full amount due in one go. For obvious reasons, we recommend charging the full due amount in one go, but that is totally up to you and your client.
Can I cancel my subscription at any time?
Of course, you can, however the add-ons that require an active subscription will stop working and you would revert to basic functionality. Updates would stop as well for those plugins.
How do refunds work?
We offer a 14 day - no questions asked - money back guarantee. That should be enough for you to make sure that our product is or is not what you need for your business setup.
WP Hourly is slowly but surely emerging as the number one self-hosted solution for your project management WordPress Themes and time tracking needs!

Wow, so cool. I setup everything and works perfect. You guys are gonna be huge, especially in the wp freelancer community once u are ready to launch. I will be recommending your product from now on. Thanks again and congratulations on job well done.
Margus Anniko
Web Developer / PoeHaldur LLC.

Would be very happy to pay for this plugin and support it's development.
rafarc21
Public review on WordPress.com

I got fast and detailed answers to my requests. The plugin is very handy with the (paying) side application WP Hourly Tracker. The team is very proactive and I am confident this product with get great enhancements in the future.
MagiColi69
Public review on WordPress.com