General settings #
Upon activation, WP Hourly WooCommerce integration will create a new tab under WP Hourly – > Settings -> WooCommerce.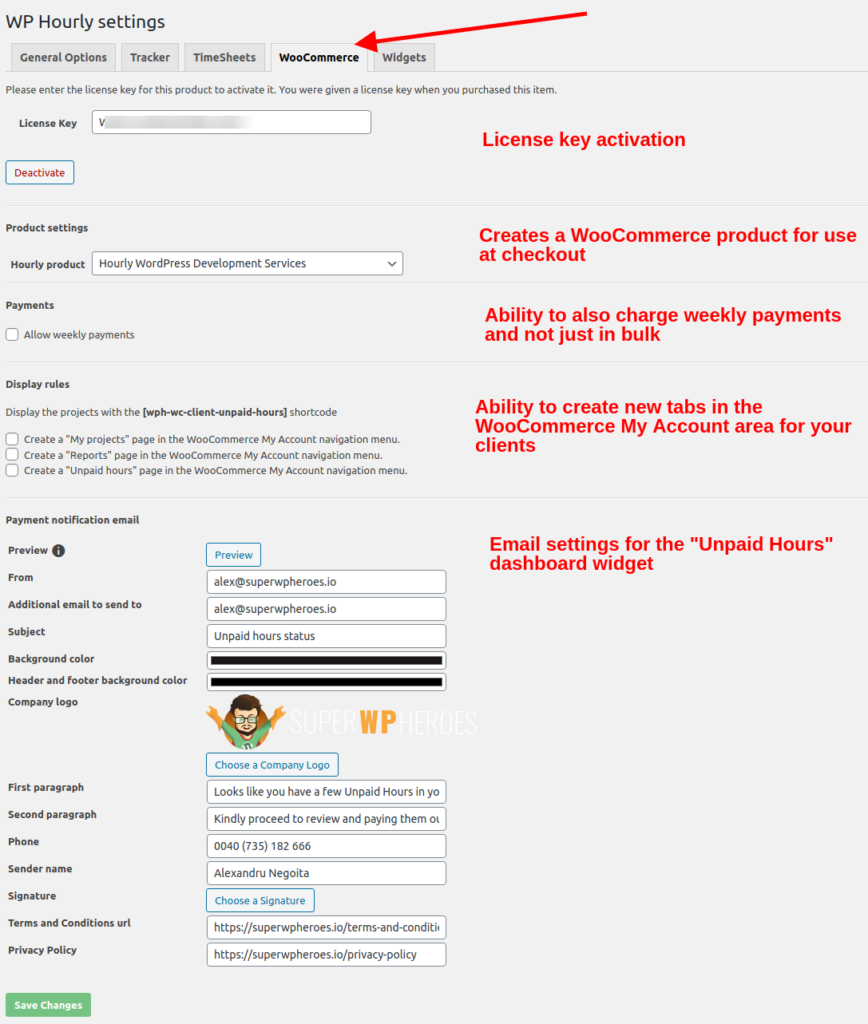 There are just a few settings to be done here, first of which beint to activate your license.
Then, the plugin creates a default and hidden from the shop WooCommerce product which is going to be used for checkout purposes. This product is going to carry on the calculated hourly rate at the checkout stage; in other words, the price of this product will be overwritten with the respective hourly rate for that client / project / task.
Weekly vs. Bulk payments #
WP Hourly WooCommerce Integration comes with a nice way of allowing you to either charge your clients in one big lump, on in weekly payments, to make it easier for them. It is totally up to you.
NOTE: We plan on introducing more models in the future, such as monthly payment or payment by project, etc. There is currently no ETA for that.
WooCommerce "My Account" section #
Here comes the nice part. WP Hourly WooCommerce Integration can allow you to inject the following endpoints into the standard WooCommerce client menu in the My Account area:
"My Projects" tab – renders the Client Projects shortcode
"Reports" tab – renders the Client Reports shortcode
"Unpaid hours" tab – this is the money maker 🙂
Unpaid hours client email notification settings #
Under these section you can customize the settings and design of the email going out to your clients when you notify them that they have unpaid hours with you. Please see WooCommerce Integration widgets for more details.